June 2019
| Mon | Tue | Wed | Thu | Fri | Sat | Sun |
| --- | --- | --- | --- | --- | --- | --- |
| | | | | | 1 | 2 |
| 3 | 4 | 5 | 6 | 7 | 8 | 9 |
| 10 | 11 | 12 | 13 | 14 | 15 | 16 |
| 17 | 18 | 19 | 20 | 21 | 22 | 23 |
| 24 | 25 | 26 | 27 | 28 | 29 | 30 |
Calendar

Top posting users this month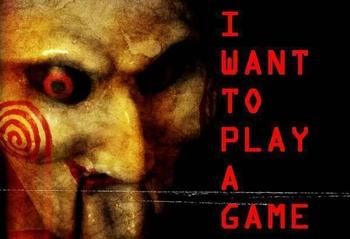 As you may or may not be aware, we have fans outside the team base, and one of which is none other than our F1 competitor "Firebl4de9696",
He has shown complete disrespect for anyone who can outpace him, and rather than learn and improve his own skill-set, has decided to take to every 15year old's friend, the Internet.

Now, he has decided to make up some BS and take it to his page, and without it exploding, just thought i'd help him gain some more viewers, just remember to "log-in" to his website, as he won't have the balls to show himself here, but rather hide like a little girl.
Cheers all, and keep up the hard work!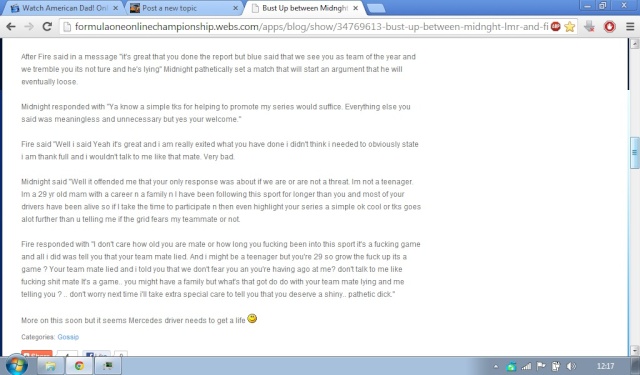 Ahaha, man that kid sounds like a jackass. Banning anyone from his series who is quicker than him. That's downright sad and pathetic. Man I'd love to see him come to Forza just so he could see how much of a beating he would take in Drivers standings. What a knob
Unfortunately for the team and racing as a whole, people like him bring the whole of the sport down. His quoted conversation fbetween himself and I was completely madeup rubbish. He twists and used the conversation to basically attack BlueJabbr and I wasnt having none of it and once he realized that he flipped out and put his mommy on the headset to scold us lol. Never in my life to I meet a more retarded and backwards wanna-be racer. Its honestly a shame to see his little crownies following him about to an almost suicidal end. So BlueJaBBR and myself had no choice but to withdraw the team from competition within the defunk XFOC. No worries though mates we return home to the USF1 league where we have a great relationship with all admins and drivers and a good history in the league. A fair warning to all though. Make sure you really investigate a league before commiting to it.

LMR CO-LEADER
/
TORA Race #372
/
Team Principal: LMR iRacing Team
 2013 TEC 24 hours of Le Mans 3rd overall - Johnny2Shoes - LMR leadgoadasse
2013 F1RL U.S. WDC/U.S. WCC-LMR Mopar / Euro WCC-II ALEXP II / Classics WDC



Similar topics
---
Permissions in this forum:
You
cannot
reply to topics in this forum